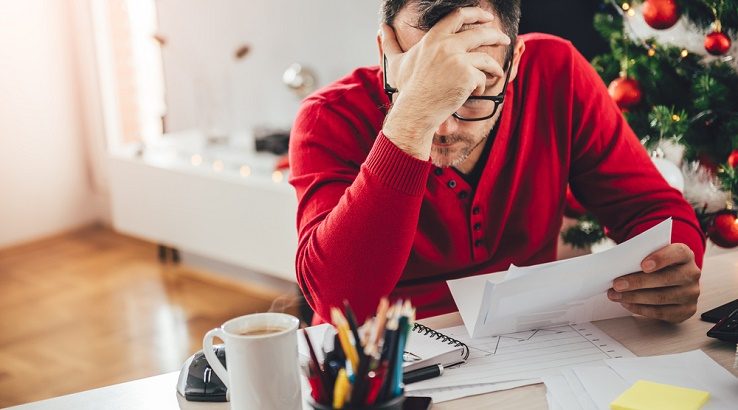 Has Christmas debt got you down?
The excitement of treating the ones we love with presents can quickly turn into a Christmas debt hangover that is very hard to manage.
It seemed like such a good idea at the time – the iPhone 13 Pro for your partner, an expensive coffee machine for Dad, the silk scarf for Mum, not to mention the endless pressies for the kids.
But now Christmas is over, all you have to show for your generosity is a bad headache from looking too hard at your credit card or buy now pay later statement. The warm fuzzy feeling you got from giving the gifts in the first place seems a long, long time ago.
Don't let this Christmas debt hangover spoil the start of 2022. Instead, take charge of your finances, get your buy now pay later and credit card bills down and make sure you're not in the same sad situation at this time next year.
Manage your Buy Now Pay Later & credit card & other debt
The best news for managing a credit card debt is that interest rates are slightly lower now than they were at the same time last year.
Sorry, but that's the only good news. You need some quick strategies you can put in place to help get debt levels down.
If you can, cancel the card and terminate the buy now pay later account. This will avoid the temptation of living off credit and buy now pay later in the future.
Then, work with Solve My Debt Now to not only reduce your debt owing, and reduce or freeze your interest, but also to set up an affordable payment plan to get your debts paid off completely. Think of every payment you make to resolve your debt problem as pain relief for your Christmas hangover.
Once your debts are stabilised by us (fixed, and not accruing more interest and fees) you can then set up an automatic direct debit which means you won't have to remember to make the payments each month. This helps avoid the risk of not making a payment and will have you debt-free in no time!
Manage your spending
It is so easy at the moment to put that bet on, buy luxury items, or eat out all the time but if you want to get your debts under control, you'll need to curb that spending for a little while so you can get back on track.
It can be a lot of fun creating healthy meals at home or finding a bargain or a hand me down luxury item rather than buying it new, and the feeling in control of yourself and your spending makes you feel good and increases your confidence. It's good to feel proud of yourself and sometimes not gratifying every desire instantly creates that.
Next year, avoid overspending
It sounds self-evident, but the best way to avoid ending up in a debt hole next Christmas is to make a financial plan for your Christmas expenses and stick to it.
Set a budget for Christmas presents and do online research before you go shopping to find out how much things cost. Internet research is also a great way to find the best deal on many items. eBay is another great avenue for finding discounted gifts and taking advantage of the big sales.
Some banks also offer Christmas savings accounts, with the idea being that you put away a certain amount each week all year so that when Christmas comes, you're not caught short financially.
No matter which methods you choose to help you reduce your financial burden next Christmas, it's an idea to start saving now. Without careful planning, your Christmas debt hangover could extend for years.
Want to Solve Your Debt? Let us Help – Today
Book your FREE Consultation now and talk to one of our qualified SMDN Advocates that will help put you back on the road to financial freedom!